Please tell us your validator moniker used for mainnet genTx and link to the github PR.
Moniker: stake2earn
Github: stake2earn gentx (alexdcrypto) by AlexDCryptoC · Pull Request #34 · regen-network/mainnet · GitHub
---
---
Please describe the setup you are using for your validator? Include any relevant security information, processor speed, backups and sentry nodes etc…
Hetzner AX51-NVMe, CPU: AMD Ryzen 7 3700X Octa-Core, RAM: 64 GB DDR4 ECC, Drives: 2x 1 TB NVMe SSD
---
---
Are you in some way trying to apply the high level application logic to create ecological credits. If so, please explain how.
We've always cared about our environment, and the members of our company are nature friendly even in their day to day life. Therefor, our objective is to combine staking services with ecology. We want to continue a campaign in which for a certain amount of tokens staked with us, we will plant a tree/s in Romania. This is an old project that we had 2 years ago and was a success. For more details, check out YouTube video: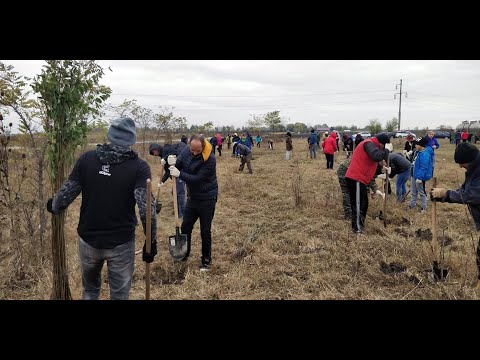 ---
---
Are you working to engage a broader community? If so, please explain how.
We already have a Telegram community channel, so far only for our delegators. Our plan is to create a community but we are taking it baby steps. Meanwhile, our PR manager is involved in more communities and besides recommending stake2earn, helps them grow a broader and engaged community.
---
---
Are you a professional validator? Please list your company name and include other chains you are validating for. Please include how long you have been in operation.
Yes, company name: stake2earn, website: https://stake2earn.com and we are validating also for: GRT, SOL, AVAX, FIS, CTK, KAVA, KSM
---
---
How did you perform during testnets and which testnets did you take part in? Please include the moniker(s) used. You can refer to your testnet results at https://regen.vitwit.com
Moniker used: AlexDcrypto
Algradigon-1
Kontraua
Aplikigo
---
---
Are you active within the community on discord/telegram and in the discourse forum? Please include your usernames for the relevant platforms.
Discord: alexDcrypto - stake2earn 🌜#0005
Telegram: alexDcrypto
Telegram stake2earn: Telegram: Contact @stake2earn
---
---
Are you committed to actively voting on Regen proposals and contributing to governance?
Yes
---
---
Do you have website or other links which offer insight to you validation services? Please include any social media and website links.
https://twitter.com/stake2earn
---
---
Please add a paragraph which will help the community decide to delegate to you. This may include any relevant information not listed above as to why you would like to be a Regen Network validator and why the community should choose to delegate to you.
Stake2earn, besides being a professional validator with more than 2 years of experience in staking services, we also have several years of development background. Moreover, the difference between us and other staking companies, comes from our company values: anticipation of implied needs, customer communication and created know how. These are 3 gold values that made our delegators turn to us and appreciate the human face we are sharing with them, in comparison with other staking companies. None the less, we plan to offer a lower commission in our first month, so that our delegators can earn more from their stakes.
---